Salvavidas Junior / Junior Lifeguards / Sea Turtle Camp
.
Verano 2017 Inscripciones / Summer 2017 Registration:
.
Salvavidas Junior de Todos Santos es una programa acuatica dirigido a jóvenes entre 8 y 18 años de edad. Los participantes reciben instrucción básica en la seguridad en la playa y mar, técnicas para prevenir lesiónes, técnicas de entrenamiento para salvavidas, talleres de kayak, snorkel, y surf, liderazgo, responsabilidad, y primeros auxilios. El programa ayuda a formar una base de conocimientos, aptitudes y habilidades para que los jóvenes lleguen a ser futuros salvavidas.
.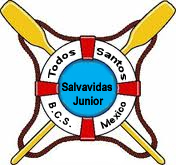 Curso #1 11-14 de julio, 3:00-6:30, y acampar 16 de JulioCurso #2 18-21 de julio, 10:00-3:00, y acampar 16 de Julio Becas disponibles para niños de pescadores de Todos Santos!

This fun aquatic program is designed for young people between the ages of 8 and 18 years old. Participants will receive instruction in basic water safety, injury prevention, lifeguard training techniques, kayaking, snorkeling, surfing, leadership, responsibility and first aide, plus one night camping out to rescue Sea Turtle nests

Session #1 July 11-14 3:00-6:30 w/ campo out July 16

Session #2 July 18-21 10:00-3:00 w/ camp out July 16. Register or Sponsor a Child two simple steps below Step 1: Submit Registration form.



Step 2: After submitting your Registration form, you will be taken to a page to choose your dates and Reserve through Paypal.
Para mas Informacion / For more Information:
Please contact : Francesca 145.0353 /Cel: 612.177.8393