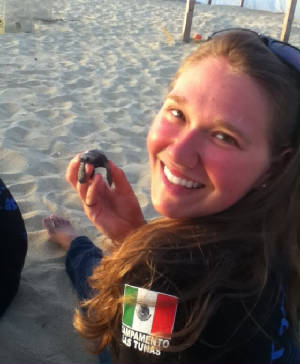 Research Assistant Internships
Volunteer for the 2017-18 Season
(October 15 - April 15)

Volunteer as a Research Assistant and gain the fieldwork you need to stand out in the Biologist community. You'll assist in population recovery, participate in marinelife research, data collection and data analysis. You'll gain the unique experience of managing the world's only Incubation Greenhouse for sea turtle incubation. Our RA's are trained in collecting data on nesting sea turtles, nest relocation, incubation greenhouse operation, nest excavation, and hatchling releases. Early morning patrols are run on ATV's, evenings are spent releasing hatchlings, and days can be spent supervising the incubation area, recording nest data, designing publicity, and analyzing data to improve hatching success. There are lots of beautiful beaches to explore in the area, as well as a culture-rich downtown full of shopping, dining, and art galleries.
About our Nest Relocation Project:
Three species of endangered Sea Turtles nest on the beaches of Todos Santos: Olive Ridley, the critically endangered Leatherback, and occasionally the Black sea turtle. Beginning in October when Leatherbacks arrive to nest, the sand temperature drops below the necessary 26 degrees celcius required for successful incubation. For this reason, our Biologists and RA's relocate the nests to a special Incubation Greenhouse designed to increase the sand temperature and hatchling yeild. Approximately 100 nests are relocated to the greenhouse each season. RA's also help supervise the incubation areas, care for hatchlings before their release, are trained in nest escavation, and help manage the hatchling releases.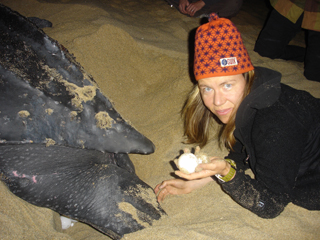 Research Assistant Job Description:
We work with each of our RA's on an individual basis to design a program that fits your interests and needs. RA's can work various shifts depending on the month of participation. Nest Relocation Patrols are run late at night and in the early morning October - March. You will be trained in recording physical data on nesting turtles, nest collection and relocation.
Daytime duties include: Incubation supervision, Recording Greenhouse temperatures, Caring for hatchlings, Nest escavation and Hatchling releases (Releases take place November 15- April). There are many on-going Volunteer activities that take place throughout the year like public awareness design and development. We are also open to you receive your ideas. You may work as little as four hours each day, or up to 10 hours if you desire. You can also take days off to relax and explore Todos Santos on your own.
Accommodations:
The Volunteer Casitas are conveniently located between the beach and centro, with several markets within walking distance. The property is gated and each Casita has a locking door and private bathroom with hot water. There is a large palapa covered kitchen and common eating area. Volunteers will be coming and going at different times, and so can choose to prepare meals individually or as a group. There is wi-fi so bring your portable internet device. Volunteers can elect to be woken up and taken to the nesting site if a turtle is on the beach during your night off. After submitting your registration below you will be taken to a page to reserve your Casita.
.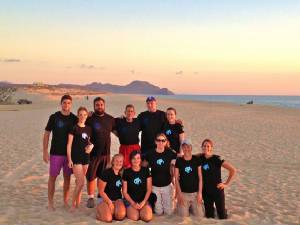 Research Assistant Prerequisites?
Research Assistants need to be at least 18 years of age. We accept undergraduate students, grad students, and college graduates with coursework in Biology, Environmental studies, Oceanography, Geology, Ecology, Wildlife Conservation, Spanish, International business, Business management and any other related major. Spanish language skills are not a requirement, but will come in handy. We are currently accepting Reasearch Assistant registrations for the upcoming nesting season.
When is the Best Time to Intern?
October 15 - March 31 is our target season, when outside temperatures are too low for natural incubation. Hatchling Releases and Incubation supervision begin in mid November and last through April. Nightly patrols are run October - February, and taper off to every other night in March depending on nesting frequency.
. Transportation in Todos Santos: Research Assistants have assess to vehicles )ATV and passanger van) provided they have a valid drivers licence (Foreign licences are acceptable).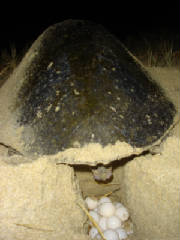 Costs:
Research Assistants are responsible for their travel expenses, meals, contribution, and entertainment:
- Airfare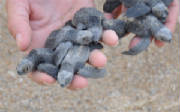 - Accommodation & Equipment Contribution
- Meals
.
The following safety protocols have been established for the health and safety of our Staff,Interns and Visitors:

1. Only Staff and Interns are permitted inside the Turtle Camp and Greenhouse.

2. Visitors can observe hatchling releases from a six foot distance.

3. Night patrols are limited to a 4-5 person maximum.

4. Biologist for a Day is limited to a 4-5 person maximum.

5. Informational signs will replace Informational speeches.

6. Intern Casitas have private bathrooms and refrigerators.

7. Casita eating areas are outside and well ventilated
At this time we do not have paid Internships available due to lack of Funding.
| | | |
| --- | --- | --- |
| Month | Nest Relocation | Hatchling Releases |
| Oct | Olive Ridley, Black, Leatherback | - |
| Nov | Olive Ridley, Black, Leatherback | - |
| Dec | Olive Ridley, Black, Leatherback | Olive Ridley, Black, Leatherback |
| Jan | Olive Ridley, Black, Leatherback | Olive Ridley, Black, Leatherback |
| Feb | Olive Ridley, Leatherback | Olive Ridley, Black, Leatherback |
| Mar | Leatherback | Olive Ridley, Leatherback |
| Apr | - | Olive Ridley, Leatherback |
| July 2017: | Junior Lifeguard and Sea Turtle Camp Instructors | Work with local Mexican kids as they develop their swimming skills, learn about conservation, and camp out to rescue sea turtle nests |
If you will be in Todos Santos for the nesting season at another location, conservation opportunities are also available. Contact us to plan your family Camp-out (October-December), organize a school field trip or create a group conservation activity. You can also help supervise the incubation greenhouse (January-March), and participate hatchling releases in Las Playitas. The Volunteer form is not required to participate in Hatchling Releases or single night Camp-outs.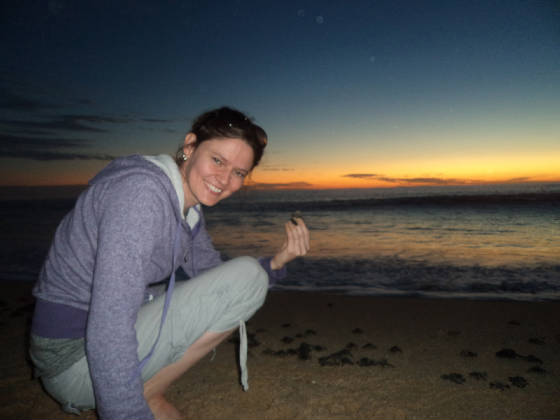 Julie with Olive Ridley hatchling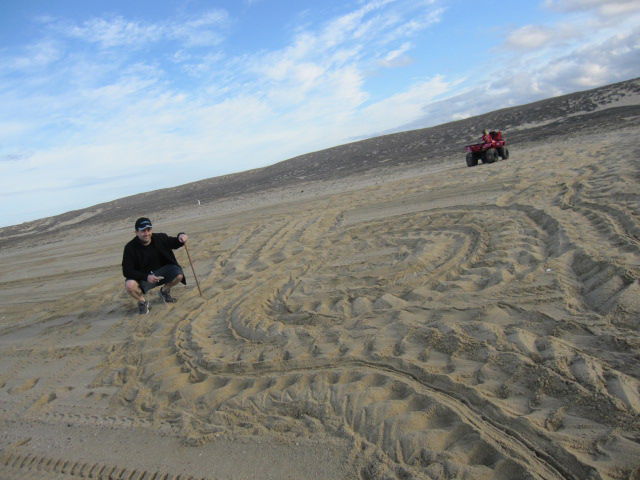 Josh with Leatherback track